We live in an increasingly competitive market and to achieve the desired success, companies need to understand the need to communicate directly with their clients, working on adaptable solutions, in addition to maintaining a focused and motivated team.
The battle is huge! The consumer researches and takes into consideration several factors, such as the quality and the price of the products, good service, fast answers, and deliveries, among so many others. 
The traditional way of serving clients is no longer enough. They are demanding more personalized and faster service. 
This is why Startups are standing out from existing solutions because they bring better solutions since they create them together with their clients. This culture brings innovation and solutions tailored to suit each client!
Among the main features of Startups, we can mention the focus on the client. Discovering the preferences and difficulties of your audience, designing a personality for your business, is a way to increase conversions. Speaking directly to the client makes all the difference! 
Open your mind and partner up! Networking is very important when it comes to Startups.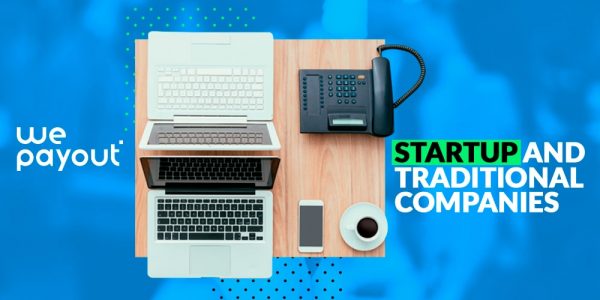 Cultural shock: there is an integration between the startup approach and traditional companies
The importance of the staff
In Startups, in general, the main philosophy is that the staff should be treated with respect and equality. They all work together, giving ideas, thinking about solutions, and innovating! This new structure, which replaces the vertical hierarchy, completely changes the company's philosophy. This makes it much stronger and with staff who are more committed, satisfied, happy, and who are very loyal and make the dream happen!  
But, even with all this autonomy, it is necessary to be accountable towards the clients and the rest of the team. Only then will it be possible to reach a shared vision of the results and points that must be improved. 
Another quite interesting feature that positively transforms the company is to focus on the solution for failed implementations instead of wasting time looking for culprits and regretting what was lost. 
Also, you should always try to learn from your competitors. For some reason, they are also good. 
Use creativity and innovation with simplicity. Things should not be seen as a big deal. 
In Startups, for everything to work perfectly well, employees need to speak the same language, and building the ideal team is not a simple task, but fundamental! 
How to build a loyal team**?**
Startups have quite different working dynamics compared to traditional companies. Thus, it is essential to choose the most suitable person to achieve the company's objectives in the market. Some of the features are: 
✔ The work rhythm is accelerated, and the deadlines are usually shorter. Therefore, you will need people who are engaged, flexible, creative, comfortable with changes, have a collaborative profile and know how to work as a team; 
✔ As it will be more difficult to always follow-up directly on the work of your staff, it is extremely important to choose committed, responsible and self-managed people.
✔ A busy routine needs twice as much organization. That is why it is necessary to have in your team people who know how to organize their time and who can prioritize the right tasks, at the right time.
These are some competitive advantages that startups have introduced and created a general change in the dynamics of the traditional market. We are constantly on the move and always looking to be the best version of ourselves.
That's why we rely on the continuous improvement model, whether in processes, products, or our staff. This is how we deliver the best solution for YOUR company. Want to know more about us? Visit our home and discover.