The company's financial control is one of the greatest challenges for managers. Keeping accounts organized, forecasting billing, controlling internal fraud, reducing human errors, checking for defaults are just some of the advantages provided by an efficient financial control.
Until recently, this control was often done manually, in notebooks and ledgers. With the expansion of technology, electronic spreadsheets were created to organize the company's financial life.
Even though spreadsheets are a great ally in financial controls, managers have also used financial applications. The apps organize and generate reports that help control and make the financial life of the business easier.
We have listed 5 apps that offer innovative solutions to optimize financial control. Have a look.
Qipu 
Image: IG
Qipu is a free application offered by Sebrae (a company focused on entrepreneurship training and business development) in partnership with Buscapé (an online price search engine) and is suitable for microentrepreneurs to gain financial control of the company.
With cloud storage, which automatically backs up information, you can control the entire operations of the company.
Financial transactions, viewing revenues, expenses, and issuing invoices are some of the features you will find in the app. Also, Qipu brings a list of all the social security benefits that an MEI (Individual Micro entrepreneur) is entitled to.
GuiaBolso 
Image: Exame
The GuiaBolso can be used both by individuals who want to do personal financial control and by those who need to perform financial control of the company.
The advantage of this app is its integration with several services, which allow the automation of the data entry.
Several banks, and even credit card companies, have established partnerships with GuiaBolso. As a result, financial transactions automatically appear in the application, saving the user the need to manually input them.
For legal entities, the application also has a comprehensive financial display, which gives accurate information about the company's business flow.
ContaAzul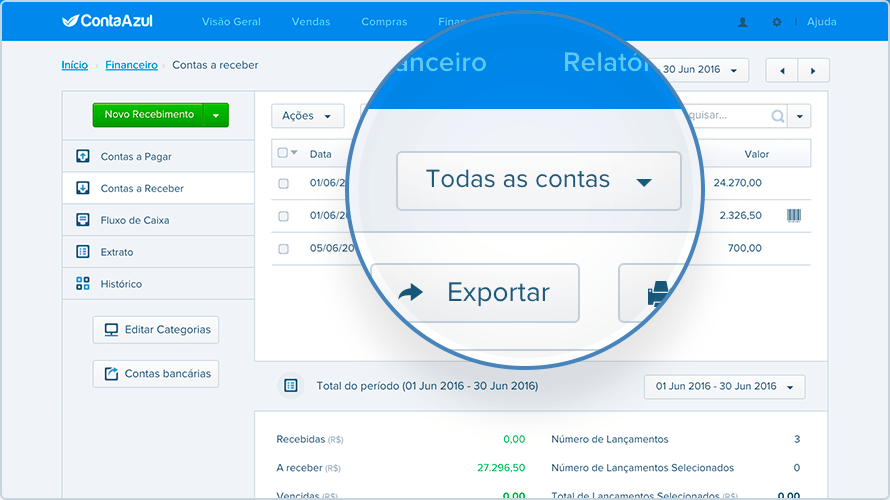 Image: ContaAzul
ContaAzul is more than just an application for the company's financial control. It is a complete management system for your business, with financial and inventory control and invoicing.
Also, it provides more detailed reports, such as Profit and Loss Statements (DRE in Portuguese). The information is entirely saved on the cloud, allowing the user to access their data from anywhere with internet access.
With monthly plans that fit into any manager's pocket, the app promises to make life easier for the manager.
Mint 
Image: Blog Mint
The advantage of Mint is the agility and the beautiful design. The data loaded into the system are used as a source for analysis graphics, which give a global view of the business.
Mint allows the manager to classify expenses in several categories.
Mobills 
Image: Mobills
On the market for a long time, Mobils is a 100% online company financial control app.
With free and paid versions, the app generates several reports that allow greater control of the accounts and give the entrepreneur the exact size of their financial life.
Also, it alerts you on expiration dates, which can be notifications on the smartphone and emails.
Our solution
At WePayOut, we have SAAS solutions for companies. We create solutions that plug into financial management applications and software, adding a layer to more payment solutions. By connecting to the apps, we offer an alternative for companies in the processing of payments to third parties, with different and efficient payment solutions. This provides more company security and more information to the final beneficiary and works well for cross-border companies as well.
The solution of bank data classification, for example, brings convenience and gain of efficiency, because it corrects bank payment data before processing, avoiding an increase in customer inquiries. 
Are you interested in how WePayOut can help your company become more efficient? Start by understanding our solution for Bank Account Qualification.
Fill the form out and subscribe for our newsletter:​