For a company to achieve high performance, first, it is necessary to rethink outdated process models. An example of procedures to be urgently addressed for improvement is the high volume of payments to brazilian third parties done manually and the unclear progress of the transfers made to beneficiaries. 
Such payment flows require a considerable amount of effort to pay, correct payment errors, or collect bank details. When your process does not provide for this step automatically, or it occurs in a way that the data may be incorrect, or it involves constant updating of the list of beneficiaries. In addition to the work, there is the lead time, which can suffer from delays. It directly affects the reputation of the company.  
WePayOut will help you improve your payment procedure to Brazil. That is why WePayOut has developed the complete payment flow with bank data collection: 
Simple, fast, and powerful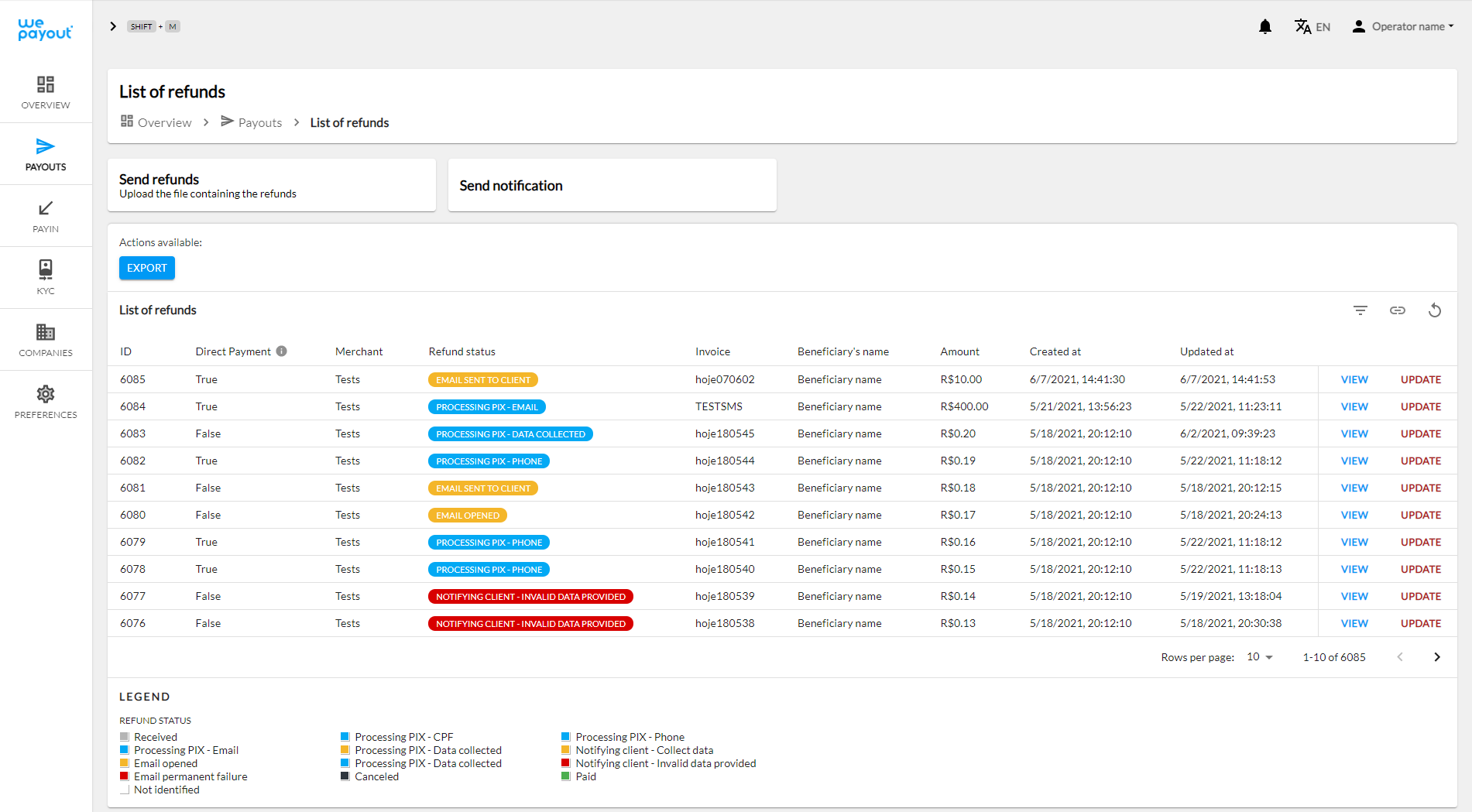 Our payment flow simplifies and streamlines your operation. By following a few steps, you pay all your beneficiaries and soon receive feedback on the success or failure of the transaction:  
1. You send your beneficiary payment orders to WePayOut;
2. Your payments are made immediately via Pix - Instant Payments - Key and we iniciate the data collection process, based on your payment order configuration; 
3. If necessary, we perform bank data collection using an automated and secure flow;
4. You are notified when the payment is successfully processed.
The result is fast payment to your customers/beneficiaries with an extremely high conversion rate. 
Transparency throughout the process 
Using our intuitive dashboard, you monitor payments in real-time and follow the entire payment journey: 
Payment attempts. 
E-mail sending.  
E-mail opening;  
Receiving a text message.  
Receiving a call. 
Focus on beneficiaries experience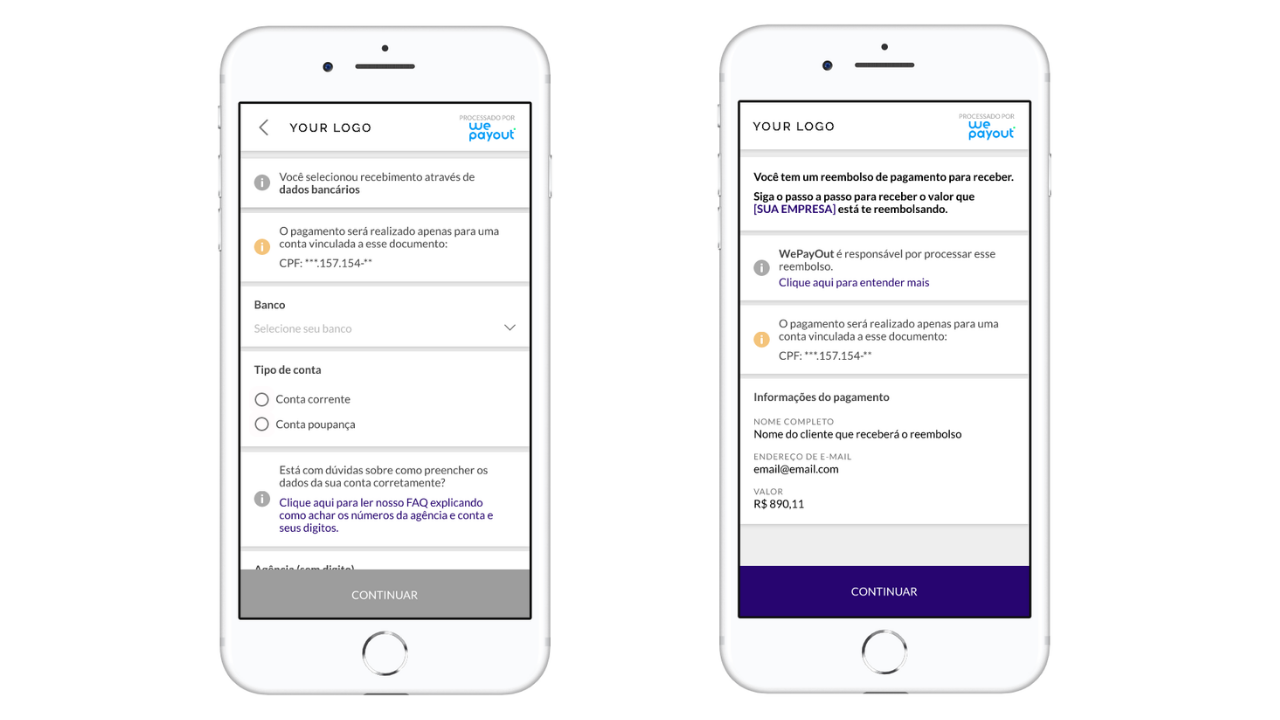 Example of the information shown on the screen of mobile devices in the bank data collection flow
Over 70% of traffic from banking data collection is from mobile devices. That is why WePayOut focused on UX (User Experience) to optimize your beneficiaries' experience on mobile devices. Check out some features of the mobile version of the payment flow: 
Customization with your company's colours, logo, and name.  
Experience with a focus on higher conversion of data collection.  
Fast loading on slow connections. 
Help links redirecting the user to our help centre to assist them in filling in the correct bank details. 
Real-time validation of the details of the main banks.  
For safety purposes, your customer's details are not shown. 
The desktop version has the same features and is also designed in a simple way to avoid distractions and keep the user focused on entering the data.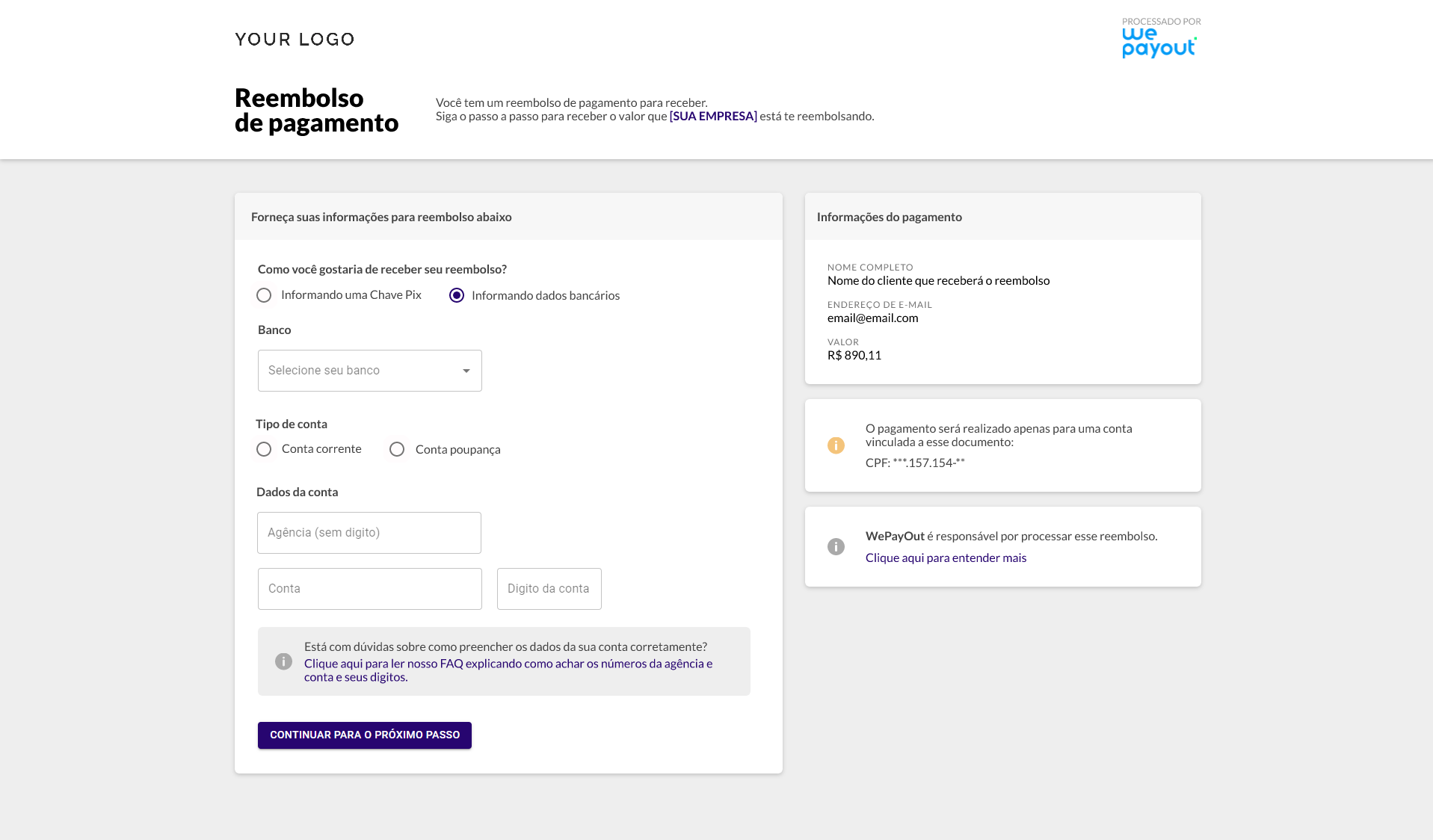 Discover other features
Our payment flow with bank data collection was not only designed to improve the payment process to Brazil.  It also enhances communication with your beneficiary.  
We designed a communication flow with predefined times between each communication with the final beneficiary. It uses a multi-channel strategy: with automatic e-mails, text messages and calls made by the WePayOut virtual assistant, which takes the burden off your team's shoulders and streamlines the payment flow.  
Request a demonstration now  
We know that speed is a priority for our customers, and we thought of this when designing the Plug & Play solution. We help you diminish the impact during the implementation of our solution in an easy and fast way to reduce your changing costs, of payment processing providar, in case your company already has some current procedures in place.  
Our team is ready to serve you. Register to show your interest in payment flow with bank data collection and receive more information about the solution: