Cross-border payments to Brazil still demand a lot of time in the business? Time is spent understanding the flow, charges applied and minimizing risks?
Business managers need to focus on problem-solving and developing new strategies to leverage their company. In many cases, much of the staff time goes into finding providers and understanding the difficult cross-border flows of payments to third parties.
But what if you had the whole picture reducing time wasting for a solution?
WePayOut will help you with this task.
How can we help you?
WePayOut is a payment institution, created by watching and listening to its target audience, who were seeking for a solution to help in the day to day tasks, and turn cross-border accounts payable easier.
With our platform, the proposal is to handle all your company's payments to third parties, from suppliers, employees, campaigns affiliates or financial payments.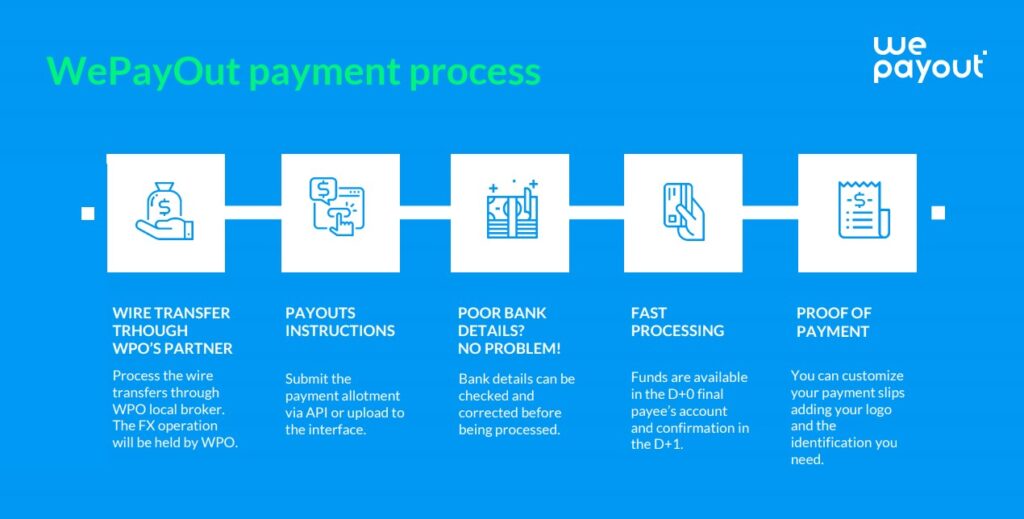 You will need to make only one transfer of the total amount of your obligations and provide payment instructions. All the operational part will be handled by us.
Payments are processed on the same day in D+0, with all necessary validation and correction of bank details. We achieved over 90% conversion rate.
Through our dashboard, you can track the entire payment flow and status in real-time, from wherever you are.
You will have access to customizable receipts that can then be sent to the final beneficiaries.
Our solution is also designed for all business sizes with a simple and fast integration via API or by simply uploading an Excel file.
With the automation of your company's payments and the reduction of operational and financial risks, a simplifies cross-border operation, you can focus on your core business. What about finding ways to improve your market positioning, evaluate results, and think about the next strategies?
Is WePayOut safe?
You can rest assured of the safety of your information and payments at WePayOut.
The platform has security protocols established by the OWASP Foundation, one of the world's leading authorities when it comes to systems security standards.
With our strategy, procedures and settings are automated, which inhibits the misuse of data and prevents future errors that could compromise payment processing. With this system, you will no longer be taking risks in processing double payments.
Also, WePayOut is audited by the Central Bank of Brazil, which guarantees your company's funds on our platform.
Don't waste more time. Change the way payments are made in your company right now. Don't take any risk, we'll take care of your payments. Fill out the form below to receive our complete presentation: